Elsa Cavalié et Laurent Mellet - Only Connect. E. M. Forster's Legacies in British Fiction
Publié le 8 octobre 2017
–
Mis à jour le 2 mars 2019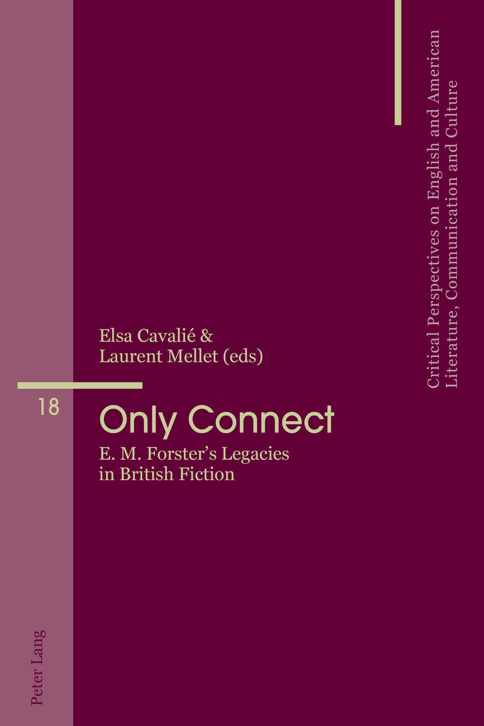 Elsa Cavalié and Laurent Mellet, eds., Only Connect. E. M. Forster's Legacies in British Fiction, coll. "Critical Perspectives on English and American Literature, Culture and Communication", Bern: Peter Lang, 2017
Since Forster's death in 1970, many British novelists and film directors have acknowledged and even claimed the influence of the novelist of the English soul (in Woolf's terms) and of a renewed faith in both human relationships and a quintessentially British liberal-humanism. After the ethical turn at the end of the twentieth century, British literature today seems to go back even more drastically to the figure of the individual human being, and to turn the narrative space into some laboratory of a new form of empowerment of the other's political autonomy. It is in this context that the references to Forster are more and more frequent, both in British fiction and in academia. This book does not only aim at spotting and theorising this return to Forster today. Rather we endeavour to trace its genealogy and shed light on the successive modes of the legacy, from Forster's first novel, Where Angels Fear to Tread (1905) onwards, to the novelisation of Forster himself by Damon Galgut. How can the principle of connection, of correspondences and echoes, which informed Forster's private life and approach to writing so much, equally characterise the aesthetic and political influence of his oeuvre?

Elsa Cavalié and Laurent Mellet, "Introduction: Forster and After"
Part I. New perspectives on Forster: personal legacies
Jeremy Tambling, "Civilization and Natural Depravity:
On Forster, Melville, Lawrence, and Britten"
Tim Mackin, "Reconstructing Knowledge in A Passage to India"
Aude Haffen, "'Well, my England is E. M.': Christopher Isherwood
and E. M. Forster's Alliance through their Correspondence"
Jean-Christophe Murat, "The Issues of Liberal Humanism and the Condition of England
from E. M. Forster to Angus Wilson"
Part II. Ethical legacies: from Forster to contemporary British fiction
Jean-Michel Ganteau, "He Cared: Forster, McEwan, and the Ethics of Attentiveness"
Marie Laniel,
"Tracing 'the Heart's Imagination' in Contemporary British Fiction"
Yi-Chuang E. Lin, "The Subject/Object Commodity: From Forster's Howards
End to Ishiguro's Never Let Me Go"
Christina Root, "'Her Way of Walking': Explorations of Nature and the Unseen
in Forster's Howards End and Robert Macfarlane's The Old Ways"
Maaz Bin Bilal, "E. M. Forster's Place in the Long Discourse of Friendship"

Part III. Aesthetic legacies: 'Only connect'?
Catherine Lanone, "'Common Garden Variety' or 'Rare Bird':
The Persistence of E. M. Forster's Singular Song"
N. Cyril Fischer, "In Timeless Company: E. M. Forster and J. M. Coetzee"
Nour Dakkak, "Walking, Strolling and Trailing: Ivory's Adaptation
of Movement in Forster's Howards End"
Susan Reid, "'The Muddling of the Arts': Modernist Rites
and Rhythms in Forster, Woolf and McEwan"
Julie Chevaux, "E. M. Forster and the Obsession for Rhythm: Rewriting
'The Story of a Panic' with 'The Life to Come'"
Part IV. Gay legacies: 'Only disconnect'?
Alberto Fernandez Carbajal, "The Postcolonial Queer and the Legacies of Colonial Homoeroticism: Of Queer Lenses and Phenomenology
in E. M. Forster, David Lean and Hanif Kureishi"
Nicolas Pierre Boileau, "Coupling: the 'Lost Form' of 20th-Century Literature? –
Or Only Disconnect"
Xavier Giudicelli, "Creative Criticism/Critical Creation: E. M. Forster
and Alan Hollinghurst"
José Mari Yebra, "Forster's Pastoral Legacy in Trauma Poetics:
The Melancholic Neo-Pastoral in Hollinghurst's
The Swimming-Pool Library and The Folding Star"
Celia Cruz-Rus, "Damon Galgut's Arctic Summer (2014) in Context"